IN THIS ISSUE
Halloween Dog Bed
Two New Dog Toys
ALL THREE NEW ITEMS ARE HALF PRICE until MIDNIGHT SLT SUNDAY 14 OCTOBER 2012

.
.
Halloween Dog Bed
The Halloween Dog Bed is texture changing with a choice of 12 different bed textures.
It is compatible with all your VKC Dogs both new and old.
It has all the usual features:

Menu Controlled
Custom Textures
Works with all VKC Dogs
Colour Changing Blanket
Can remember dog's sleeping positions.
SLURL: Vavoom! Main Store
.
Two New Halloween Dog Toys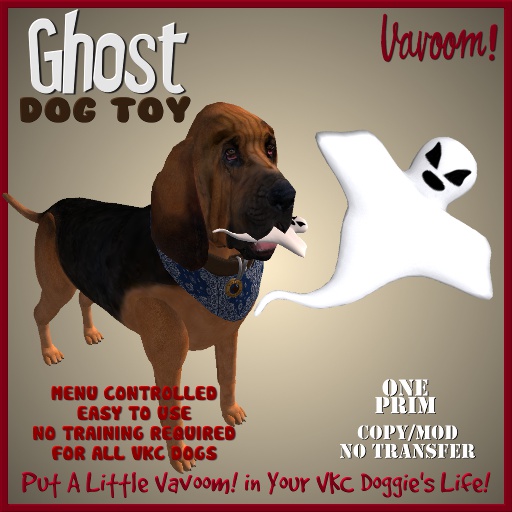 Toys are one prim each and work with all VKC Dogs.
SLURL: Vavoom! Main Store
Lost Products
Don't forget that anything you buy at the Vavoom! Store can be reclaimed for free if you lose it. If you need to reclaim something, you do it at the Update Stations.
SLURL: Vavoom! Update Stations
Did I say that it's free?
.
Want to Unsubscribe from the news service?
If you no longer want to receive the inworld notices, please send me a Notecard with your name and the word unsubscribe. (You can just put this as the name of the Notecard, if you like. No Need to write anything inside.)
If you request to unsubscribe from this service, please be SURE that this is what you want to do. It means that you will not hear when there are updates to the Vavoom! Accessories even if those updates are vital when the dogs are changed such that the accessories MUST be changed to continue to work with the dogs. (This is of course a rare occurrence, but it is not entirely unheard of.)
Thanks as always for shopping at Vavoom!
Chiva