IN THIS ISSUE
New Pet Bed
Updates for

Fuzzbee
Ropeball
Balloon Bursting Game

New House
New Bed
I got the idea for this when Enrico was working on the VKC Dingo last summer. Someone found a wonderful photo of a sleepy Dingo by Charlie Renwick on the Deviant Art web site. http://charlierenwick.deviantart.com/art/Sleepy-Dingo-Wallpaper-268125936
It sleeps one VKC Pet or multiple and has a built in resizer script.
SLURL: Vavoom! Main Store
.
Updates to Interactive Toys
The Fuzzbee, Ropeball and Balloon Bursting Game all get an update this month.
The updates to all three contain improvements to make them work better with the VKC Rabbits. (Yes! your VKC Bunny can fetch a Fuzzbee or Burst Balloons! You may need to update your pets as well to get the best results.
This update is applicable to all of the following products purchased on or before 6 January 2014:
Vavoom! Balloon Bursting Game
Vavoom! Fuzzbee Toy
Ropeball Toy by Vavoom!
To get your update do one of the following:
Visit the vendor from which you purchased it. Click the vendor and choose Redelivery.
OR
Visit the Update Stations at the far end of my main store and click on the updater labelled "Interactive Toys".
SLURL: Vavoom! Update Stations
.
New Dog House
Many of you will have seen this already and many of you own it, but I am mentioning it here because I didn't announce it last year when I put it on display, so for a lot of people it's still a new release.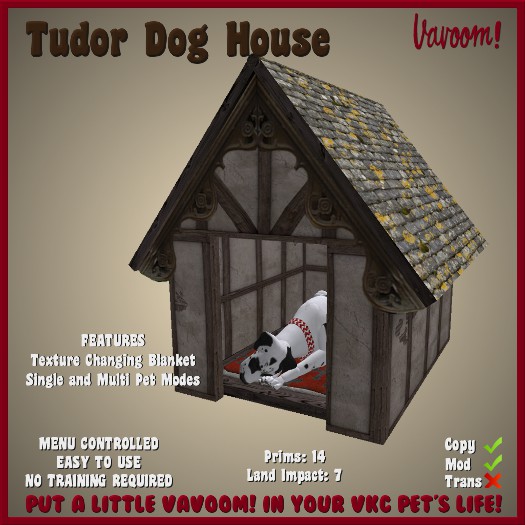 The Tudor Dog House is based on the Grade I Listed Dog House at Ightham Moat, the Medieval manor house in Kent, in the UK. The original was built for a St. Bernard named Dido in the late 19th Century.
http://en.wikipedia.org/wiki/Ightham_Mote
Enrico, if you're reading, can we have a St. Bernard, please?
SLURL: Vavoom! Main Store
.
Lost Products
Don't forget that anything you buy at the Vavoom! Store can be reclaimed for free if you lose it. If you need to reclaim something, you do it at the Update Stations.
SLURL: Vavoom! Update Stations
Did I say that it's free?
.
Want to Unsubscribe from the news service?
If you no longer want to receive the inworld notices, please send me a Notecard with your name and the word unsubscribe. (You can just put this as the name of the Notecard, if you like. No Need to write anything inside.)
If you request to unsubscribe from this service, please be SURE that this is what you want to do. It means that you will not hear when there are updates to the Vavoom! Accessories even if those updates are vital when the dogs are changed such that the accessories MUST be changed to continue to work with the dogs. (This is of course a rare occurrence, but it is not entirely unheard of.)
Thanks as always for shopping at Vavoom!
~Chiva