Vavoom! News February 2010
Dear Everyone,
February's Vavoom! News brings you some fabulous new Multi-Dog *Magic Beds*, a Limited Edition Valentine Bear, a new "Loyalty Vendor" Freebie plus updates to the Magic Beds, Chaises, Cuddle your Dog Rugs, Magic Dog Houses and the Poser for Dogs!
.
1. The New Magic Beds offer a major improvement in looks over the previous versions.
I've been learning some news skills and have employed them to make single prim sculpty beds with baked textures to give the most realistic look that I've achieved yet. There are three different styles:
Low Wicker Bed
Raised Wicker Bed
Heart-Shaped Wicker Bed
The Heart-Shaped version has three different colour choices for the pillow inside the bed: Red, Blue and Pink.
The other two versions have six colours: Red, Blue, Green, Orange, Purple, and Pink.
All three versions have all the latest Multi-Dog Magic Bed scripts with saved sleeping positions and commands to send all the dogs to bed together or wake them all up at once.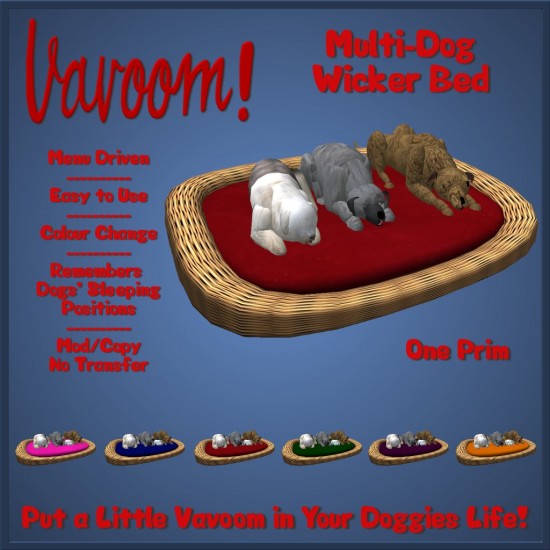 .
.
.
2. The Valentine Bear went on display on the 1st February. He works just like the other bears, you carry him in the crook of your right arm (with an animation by Solcar Amat) and you touch him to rez a Vavoom! Dog Toy. The Valentine Bear's Toy is a Red Heart.
The Valentine Bear will be in the stores until 1st March.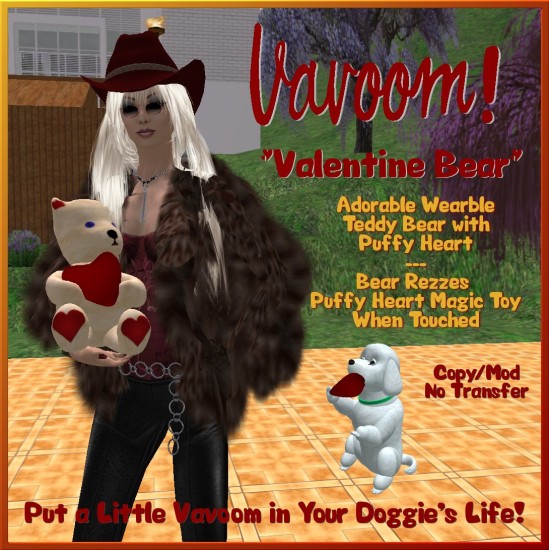 .
3. As I am sure you will recall, the Vavoom! "Loyalty Vendor" gives you its contents Free when you touch it, if you are an existing Vavoom! Customer. If you're not already a customer then you can pay the vendor its regular price or you could purchase something else and then go back to get the Loyalty Vendor's item for free.
This month's item is a Hot Pink Heart Shaped Toy. Instead of being a puffy-heart style like the Valentine Bear's toy, this one is a made from a tube, so there's a hole through the middle like a ring.
It will be in the Loyalty Vendor until the end of February.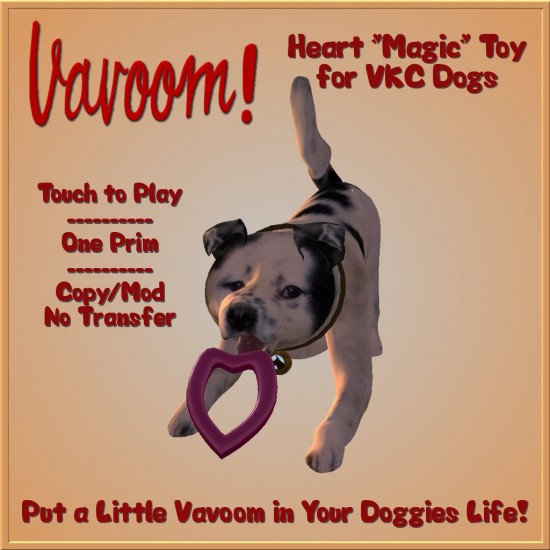 .
4. Updates to Magic Beds, Chaises, Cuddle your Dog Rugs, Magic Dog Houses and the Poser for Dogs
Aas I'm sure you know, Enrico released the White German Shepherd Dog just a couple of days ago. If you have one of these dogs, these updates will make sure that your White GSD is positioned beautifully on his bed, chaise, rug, house or poser.
These updates apply to all Vavoom Beds, Dog Houses, Chaises, Rugs and the Poser that were sold before 5 February 2010.
.

Lost Products
Don't forget that anything you buy at the Vavoom! Store can be reclaimed for free if you lose it. If you need to reclaim something, you do it at the Update Stations:
http://slurl.com/secondlife/Turing%20Isle/122/5/26
Did I say that it's free?
.
Want to Unsubscribe from the news service?
I have a longer term plan to introduce a system that will allow you to unsubscribe from the notices yourself, but I'm still a long way from having time to work on it. So in the meantime, if you no longer want to receive these notices, please send me a Notecard with your name and the word unsubscribe. (You can just put this as the name of the Notecard, if you like. No Need to write anything inside.)
If you request to unsubscribe from this service, please be SURE that this is what you want to do. It means that you will not hear when there are updates to the Vavoom! Accessories even if those updates are vital when the dogs are changed such that the accessories MUST be changed to continue to work with the dogs. (This is of course a rare occurrence, but it is not entirely unheard of.)
.
Thanks as always for shopping at Vavoom!
Chiva