Dear Everyone,
The April 2010 Vavoom! Newsletter brings you:
New Raised Food and Water Bowls

A new *Magic* Toy

An Update for Sam's Dog House

Updates to all Vavoom! *Magic* Bowls
.
1. The New Raised Food and Water Bowls are only One Prim and have individually Baked Textures. There are four designs with a food bowl and a water bowl for each design.
Carved Wood

Pebbles

Rose Tile

Tiled
As you would expect, the bowls are copy and modify so that you can resize them to suit your dogs and you get a standard size and a small size with each purchase.
They're available individually or in twin packs . There is a discount for the twin packs.
You can view them and try them out at my Main Store.
.
2. The New *Magic* Toy this month is a Traffic Cone.
I was reminded recently of a story about a German Shepherd Dog called Chloe who thought that traffic cones were the best toy ever. She'd take her cone into the garden and drag it around shaking and chewing it until it was reduced to small pieces of plastic. The trouble was she'd see one in the street and want to do the same thing to that too. This is my tribute to Chloe.
There are two types in the pack, one with a square base and one with a round base.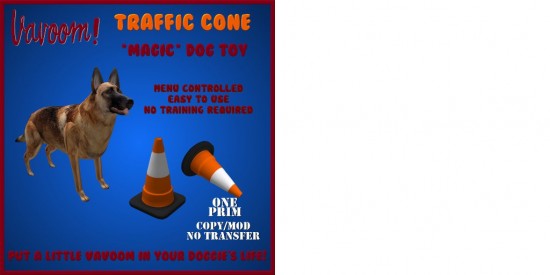 By the way, it was my turn to provide an item for the Grid-wide Hunt that Turing Isle is taking part in this month. I put the Traffic Cone in, so if you hunt around a bit, you can get it for free.
.
3. The Update for Sam's Dog House is a small bug fix. If you bought one of these cute colour changing houses last month, you may have noticed that it failed to return from the Colours Menu to the Main Menu when the button was clicked. This update fixes that bug.
This applies to Sam's Dog House if you purchased it before 2 Aprl 2010. The other dog houses are not affected.
.
4. The updates to the Food and Drinking Bowls add a couple of new features and also include some general tidying up of the code to make it more efficient.
You can now set the range within which the bowl will call the dogs.

If you click on the bowl and there are a lot of dogs in the vicinity (more than 12), the bowl will automatically generate a Menu with buttons for "More" (and "Back") so that you can browse all the dogs that are nearby. (This works up to a maximum of 16 dogs, because 16 is maximum number that can be found by an LSL Sensor.)
Don't forget that if you purchased your bowls in my "Mega-Pack", you need to use the Mega-Pack Updater instead of the bowls one when you come to collect.
This applies to all Vavoom! Bowls purchased before 2 April 2010.
.
Lost Products
Don't forget that anything you buy at the Vavoom! Store can be reclaimed for free if you lose it. If you need to reclaim something, you do it at the Update Stations:
http://slurl.com/secondlife/Turing%20Isle/122/5/26
Did I say that it's free?
.
Want to Unsubscribe from the news service?
I have a longer term plan to introduce a system that will allow you to unsubscribe from the notices yourself, but I'm still a long way from having time to work on it. So in the meantime, if you no longer want to receive these notices, please send me a Notecard with your name and the word unsubscribe. (You can just put this as the name of the Notecard, if you like. No Need to write anything inside.)
If you request to unsubscribe from this service, please be SURE that this is what you want to do. It means that you will not hear when there are updates to the Vavoom! Accessories even if those updates are vital when the dogs are changed such that the accessories MUST be changed to continue to work with the dogs. (This is of course a rare occurrence, but it is not entirely unheard of.)
.
Thanks as always for shopping at Vavoom!
Chiva