Dear Everyone,
What's new for May 2010? Oooooh where should I start…
A new *Magic* Bed
A new Active Toy
Two new *Magic* Toys
Half Price Product-Retirement Sale
Updates to Beds and Dog Houses
.
1. The new dog bed is "Jack's Bed".
Designed with the Jack Russell Terrier in mind, Jack's Bed is a wicker basket with a comfy pillow inside. It's all done with one sculpted prim and it has a choice of six baked textures all controlled from the Colours section of the *Magic Bed* script.
Although I designed it whilst thinking about the new Jack Russell Terrier, it will work with any of the dogs. You can shrink it down for your Chihuahua or stretch it out for your Irish Wolfhound.
.
.
2. The new *Active* Toy is called CoCo's Cupcake.
A few weeks ago a good friend of both Vavoom! and the Virtual Kennel Club, Roe Woodford, was celebrating the birthday of her dog Coco. Roe called Sandry Logan looking for a cake for Coco. Sandry called me and here's the result! The pack contains both Pink and Blue Cupcakes.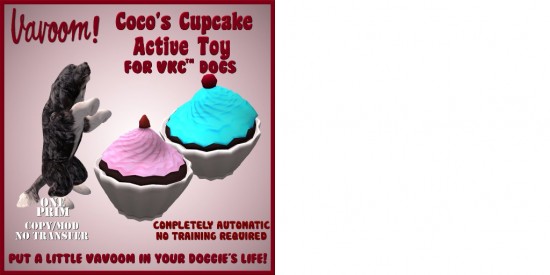 Happy Birthday Coco!
.
.
3. New *Magic* Toys
Buddy Toy – Single prim. Baked texture. Choice of two colours.
USB Drive – A geeky dog toy. Or a toy for geeky dogs?
One prim. Baked Texture. Choiced of three colours: Red, Blue, Pink
.
.
4. Product Retirement Sale.
I'm going to retire some of the older Vavoom! products/colour options to make room for new things. I've put everything that is being dicontinued in a skybox over my Main Store and set it to half the regular price. It will be there until the next edition of the Vavoom! News Letter comes out. After that, it'll be gone.
SLURL : Vavoom! Product Retirement Sale
.
.
5. Updates to beds and houses.
This is a bug fix release, but it applies to only a tiny fraction of owners. The bug only occurs if you have a dog named Red or Blue (or one of the other colour names that I used In the Wicker Beds series). It is present in most beds and houses that were sold or updated since March 2010, but it is not present in the new Sam's Dog House that came out in March. I think this only affects a tiny minority of dog owners because there are only a few of you with dogs that are named after colours. If you *are* affected, please come and collect an update from the Update Stations.
SLURL: Vavoom! Update Stations
.

.
Lost Products
=========
Don't forget that anything you buy at the Vavoom! Store can be reclaimed for free if you lose it. If you need to reclaim something, you do it at the Update Stations:
SLURL: Vavoom! Update Stations
Did I say that it's free?
.

.

Want to Unsubscribe from the news service?
I am planning to introduce a system that will allow you to unsubscribe from the notices yourself, but it is going to be a while before it is ready. In the meantime, if you no longer want to receive these notices, please send me a Notecard with your name and the word unsubscribe. (You can just put this as the name of the Notecard, if you like. No Need to write anything inside.)
If you request to unsubscribe from this service, please be SURE that this is what you want to do. It means that you will not hear when there are updates to the Vavoom! Accessories even if those updates are vital when the dogs are changed such that the accessories MUST be changed to continue to work with the dogs. (This is of course a rare occurrence, but it is not entirely unheard of.)
Thanks as always for shopping at Vavoom!
Chiva