Dear Everyone,
I've only actually got two things to show you this month, but I think you'll agree that they're rather special.
1. Log Cabin Dog Houses
Making a log cabin dog house had been on my to-do list for ages. I finally got around to it earlier this week. I started off with a low prim house and found some log textures, but it just didn't look right. So I decided to build it myself from scratch. The sculpted prims were made by me and the textures were baked for those prims. So what you see here is all exclusively by Vavoom!
The Log Cabin Dog House has three built in themes:
Dark wood
Medium wood
Light wood

You can access the themes by touching the quilt and choosing Options from the Menu and then Colours.
The Log Cabin houses are designed to be shared by a number of dogs. You click on the point on the quilt where you want the dog to lie down. When dogs go to sleep in the house, they are set to passive so they stay there. When you use the Wake Up feature to get them up again, they are set back to active. Don't forget, if you have a number of dogs that regularly share the house, there is a feature to save the positions where they sleep so that you can send them all to bed at once.
Each house is made from eight Prims and is Copy and Mod. (No Transfer)
.
.
2. Grad Cap Magic Toy
You can wear this AND your dog can play with it. If you wear it, it attaches to your chin. If you then right click and drop it (or just rez it from your inv), you can touch it and have the dog fetch it for you. But, if your hair gets all sticky because the dog had your hat in his mouth, then it's nothing to do with me. As with the new houses, the sculpties and textures are exclusively Vavoom!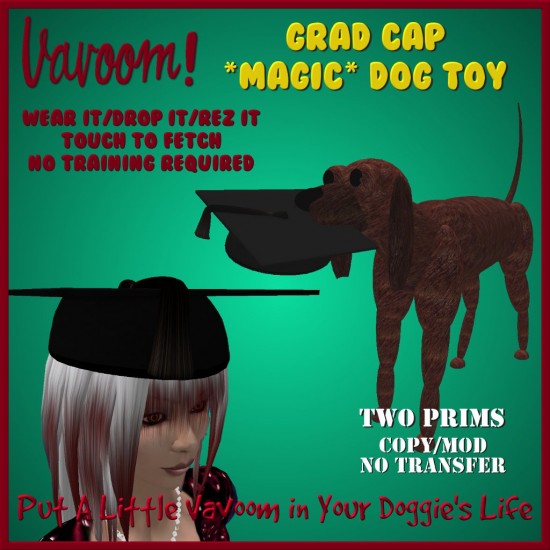 The Grad caps are made from two prims and are Copy and Mod. (No Transfer)
BTW, congratulations to Roe!
.
.
Lost Products
Don't forget that anything you buy at the Vavoom! Store can be reclaimed for free if you lose it. If you need to reclaim something, you do it at the Update Stations:
SLURL: Vavoom! Update Stations
Did I say that it's free?
.
.
Want to Unsubscribe from the news service?
I am planning to introduce a system that will allow you to unsubscribe from the notices yourself, but it is going to be a while before it is ready. In the meantime, if you no longer want to receive these notices, please send me a Notecard with your name and the word unsubscribe. (You can just put this as the name of the Notecard, if you like. No Need to write anything inside.)
If you request to unsubscribe from this service, please be SURE that this is what you want to do. It means that you will not hear when there are updates to the Vavoom! Accessories even if those updates are vital when the dogs are changed such that the accessories MUST be changed to continue to work with the dogs. (This is of course a rare occurrence, but it is not entirely unheard of.)
Thanks as always for shopping at Vavoom!
Chiva