Dear Everyone,
I have another very exciting toy to announce this month… did you know that your dog could play basketball? No? Well have a look at this…
.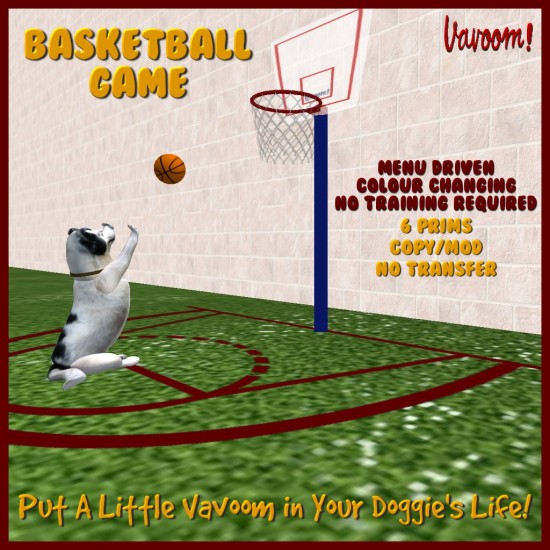 .
Click on the basket or backboard, choose a dog's name from the menu and watch him take the ball back to the net and take a shot. After he's taken his shot, he comes back to you barking and wagging his tail, enthusiastic to do it all over again. All of your VKC Dogs can play with this from the Chihuahua right up to the Irish Wolfhound and if you have a Hyena, it will work with him too. Oh and you should see the Polar Bear shoot a basket!
You can try it out for yourself at my store and in some of the dog parks.
There are scripted controls for the owner to colour the hoop, the pole and the net and there is a built in rezzer (and de-rezzer) for the optional extra prim with the markings for the Baseline, Key and Three-Point Line. There is also a button to remove any stray basketballs that you may have rezzed when the game is over.
.
SLURL for Main Store
.
Lost Products
Don't forget that anything you buy at the Vavoom! Store can be reclaimed for free if you lose it. If you need to reclaim something, you do it at the Update Stations:
SLURL: Vavoom! Update Stations
Did I say that it's free?
.
Want to Unsubscribe from the news service?
If you no longer want to receive these notices, please send me a Notecard with your name and the word unsubscribe. (You can just put this as the name of the Notecard, if you like. No Need to write anything inside.)
If you request to unsubscribe from this service, please be SURE that this is what you want to do. It means that you will not hear when there are updates to the Vavoom! Accessories even if those updates are vital when the dogs are changed such that the accessories MUST be changed to continue to work with the dogs. (This is of course a rare occurrence, but it is not entirely unheard of.)
Thanks as always for shopping at Vavoom!
Chiva