Dear Everyone,
There are no new product releases this month, but there are updates to the following products:
Beds
Houses
Rugs
Chaises
Poser
Toys
.
Rugs and Chaises
There is an Important Update to the scripts in these products to allow them to accommodate the new variations on the Hyena that were released by Enrico for Halloween 2010. These two products will not work properly with the new Hyenas unless updated.
There is also an important update in the Cuddle Rugs to correct a long standing rotation-multiplication error. Many thanks to Snozzledcomp for spotting this.
.
Beds, Dog Houses and Poser
There is a Minor Update to the scripts in these products that will assist with accurate positioning on the new variations on the Hyena that were released by Enrico for Halloween 2010.
.
Toys
Minor update to scripts.
.
Just in case you didn't see last month's news, have a look at this. Your dog is a basketball star just waiting to be noticed!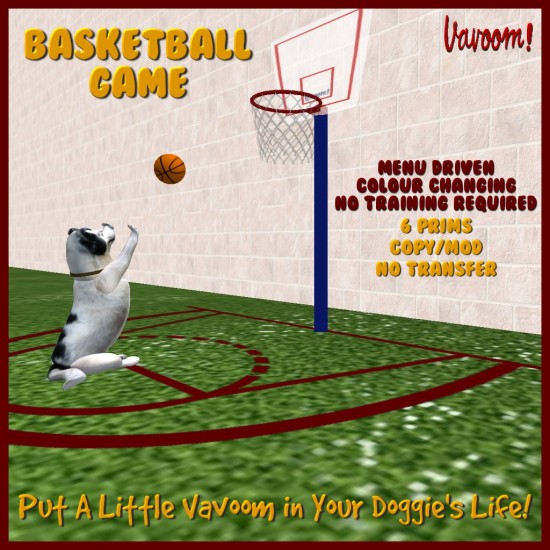 .
And if you didn't see the Vavoom! Fuzzbee Toy, have a look at this video.
I have seen several attempts at Frisbee-like Toys for the VKC Dogs both recent and dating right back to the early days in Caledon, but I think you'll agree, there's nothing quite like this one. When I showed it to Enrico, he said that he'd always wanted to be able to do that with the VKC Dogs.
.
SLURL for Main Store
.
Lost Products
Don't forget that anything you buy at the Vavoom! Store can be reclaimed for free if you lose it. If you need to reclaim something, you do it at the Update Stations:
SLURL: Vavoom! Update Stations
Did I say that it's free?
.
Want to Unsubscribe from the news service?
If you no longer want to receive these notices, please send me a Notecard with your name and the word unsubscribe. (You can just put this as the name of the Notecard, if you like. No Need to write anything inside.)
If you request to unsubscribe from this service, please be SURE that this is what you want to do. It means that you will not hear when there are updates to the Vavoom! Accessories even if those updates are vital when the dogs are changed such that the accessories MUST be changed to continue to work with the dogs. (This is of course a rare occurrence, but it is not entirely unheard of.)
Thanks as always for shopping at Vavoom!
Chiva