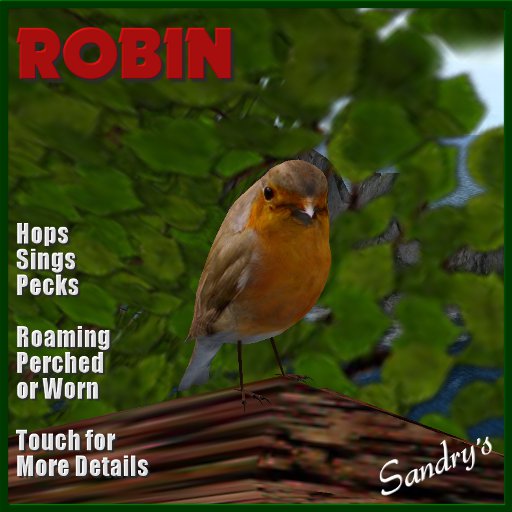 This is a special shout out for my old friend and Landlady Sandry Logan who is about to release her Robin which is the first of her new line of virtual pets today. SLURL
I did a little beta testing for this bird and I have to say that I am very impressed with him. This is a little quote from Sandry's literature:
"The Robin can sing, peck the ground, look all around, turn, hop around on the ground or other surface, or sleep. He has ten different songs and thousands of combinations of movements that he chooses at random. You can name him (or, of course, her) and you can wear him on your shoulder where he will entertain you with song.
The Robin can be instructed to hop around freely, stay in a certain area, stand still, and sleep. He will be equally at home hopping around in the garden, riding on your shoulder, or standing on a wall or branch."
You can read more about the bird on her web site: http://www.sandry.co.uk