Dear Everyone,
I'm please to announce that after what seems like an eternity, I'm back in the saddle, creating new dog accessories and I have two new releases month!
Throwable Ropeball Toy
Donut Bed
.
Ropeball Toy
I teamed up with Solcar Amat again and he made a new throwing animation especially for this toy. It works in the same way as the Fuzzbee: you wear the HUD and the (invisible) hand-held toy then click the HUD and choose a dog name. The HUD script takes over and you bend down to pick up the toy, show it to the dog who waits excitedly for you to throw it and off he goes to fetch it.
The toy is a ball with a rope through it, I'm sure you know the sort of thing. It's made from one sculpted prim and the best toy script yet. After you've played with it a few times, tell your dog to take the toy and you'll see that even the sculpted-prim dogs hold it in their mouths. Watch out for that in my other toys soon.
The animation is, as you would expect from Solcar, a delight. I have no idea how he made it look like the rope is flexible, but he did. I am so pleased with this, it's one of the best things he has done to date..
.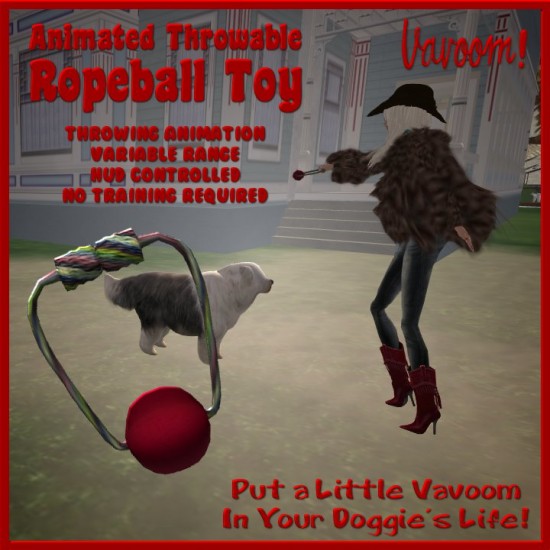 .
Donut Bed
A comfy new Donut style bed in a velvety finish. Your dogs can get in it together. Touch the bed where you want the dog to go and choose a dog name from the menu, then touch another spot and choose another dog. It's that easy!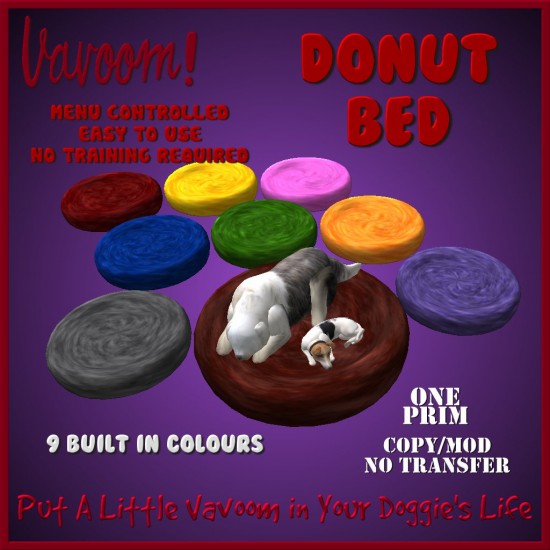 There are nine different colour variations built in to the bed's menu and it has and all the usual multi-dog bed features you expect from a Vavoom! Bed:
Configurable poses: rest, down, sit, bang etc.
Save the dogs' sleeping positions so that you can send them all to bed at once next time.
Make the dogs passive when they go to sleep
Wake them up again and make them active.
.
SLURL for Main Store
.
Lost Products
Don't forget that anything you buy at the Vavoom! Store can be reclaimed for free if you lose it. If you need to reclaim something, you do it at the Update Stations:
SLURL: Vavoom! Update Stations
Did I say that it's free?
.
Want to Unsubscribe from the news service?
If you no longer want to receive these notices, please send me a Notecard with your name and the word unsubscribe. (You can just put this as the name of the Notecard, if you like. No Need to write anything inside.)
If you request to unsubscribe from this service, please be SURE that this is what you want to do. It means that you will not hear when there are updates to the Vavoom! Accessories even if those updates are vital when the dogs are changed such that the accessories MUST be changed to continue to work with the dogs. (This is of course a rare occurrence, but it is not entirely unheard of.)
Thanks as always for shopping at Vavoom!
Chiva