Introducing the Vavoom! Balloon Bursting Game
Colourful, noisy, addictive fun for all your VKC dogs! The game rezzes a small field of multi coloured balloons. Your dog rushes in and bursts them as fast as he can. Each time he bursts a balloon it is accompanied by a loud popping noise and a flurry of little coloured particles. When all the balloons are gone, your dog comes back to you and the game stores calls out how long he took to burst them all.
.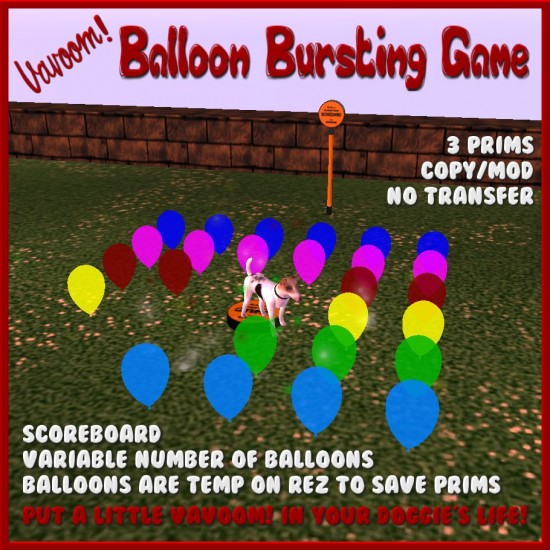 .
SLURL: http://bit.ly/chiva
.
Project Fur News
In case I didn't say this before, with your help Vavoom! donated L$28,000 to the  Project FUR Japan Fundraiser last month. Thank you all for your purchases and contributions.
The final total raised by the appeal was well over 7 million Linden Dollars which is about $26,500 US Dollars or £16,000. You can read the final post here: http://projectfurjapan.wordpress.com/2011/05/06/its-over/
Well done Blazin and team, you should all be very proud.
.
Lost or Broken Products
Don't forget that anything you buy at the Vavoom! Store can be reclaimed for free if you lose it or break it. If you need to reclaim something, you do it at the Update Stations.
SLURL: Vavoom! Update Stations
Did I say that it's free?
.
Want to Unsubscribe from the news service? If you no longer want to receive these notices, please send me a Notecard with your name and the word unsubscribe. (You can just put this as the name of the Notecard, if you like. No Need to write anything inside.) If you request to unsubscribe from this service, please be SURE that this is what you want to do. It means that you will not hear when there are updates to the Vavoom! Accessories even if those updates are vital when the dogs are changed such that the accessories MUST be changed to continue to work with the dogs. (This is of course a rare occurrence, but it is not entirely unheard of.)
Thanks as always for shopping at Vavoom!
Chiva