Vavoom! News August 2011
NEW DOGS!
Unless you've been living under a massive pile of breedable animal food, you'll know that the long awaited VKC Huskies are in the Dog Parks. There are two different Huskies a Black and White one and a Copper one. They are SERIOUSLY adorable and loaded with new features. You can pick up the Release Notes from the Kiosks in the Dog Parks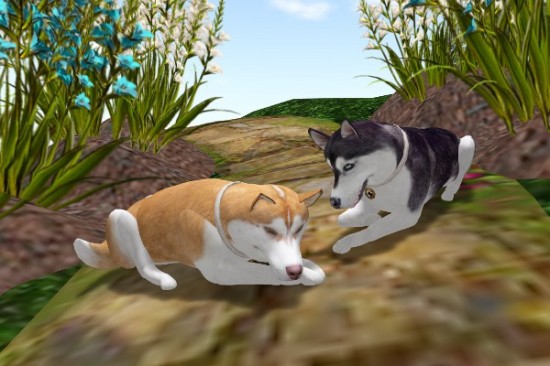 One small thing to bear in mind: the Huskies are No Transfer. If you want to get one as a gift, you can get them from the VKC listings on the SL Marketplace.
.
NEW TOYS!
When you read the Husky Release Notes, you'll see that there is a new Toy System in these dogs. I am very pleased to announce that I've got a selection of Husky Ready toys in my store.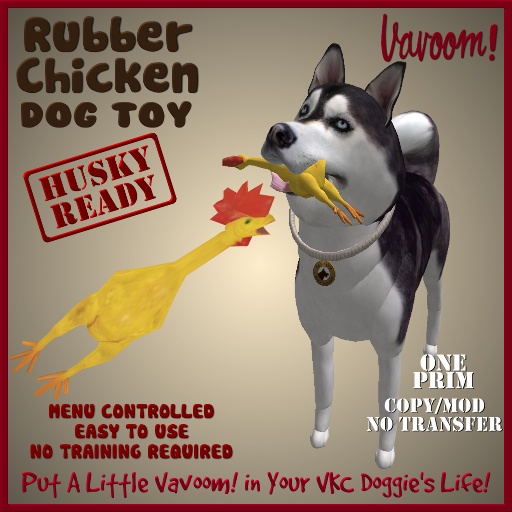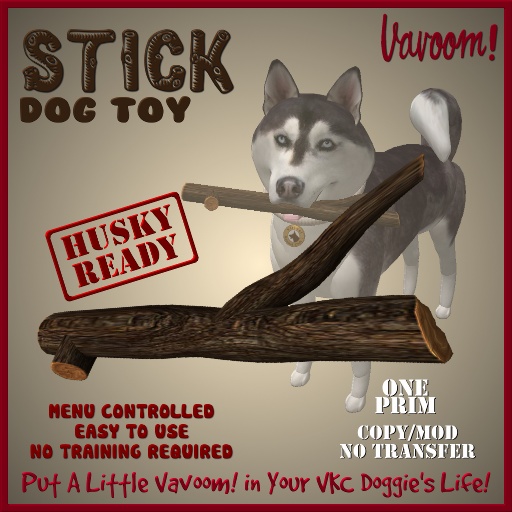 All of the original Vavoom! toys will also work with your Husky and I'll be upgrading more of them to work with the new system in the coming weeks.
You will also find a selection of Free Husky Ready toys in the Kiosks near the clinics in the Dog Parks.
The Husky Ready toys are, as one would hope, compatible with your existing dogs.
.
Lost Products
Don't forget that anything you buy at the Vavoom! Store can be reclaimed for free if you lose it. If you need to reclaim something, you do it at the Update Stations.
SLURL: Vavoom! Update Stations
Did I say that it's free?
.
Want to Unsubscribe from the news service?
If you no longer want to receive the inworld notices, please send me a Notecard with your name and the word unsubscribe. (You can just put this as the name of the Notecard, if you like. No Need to write anything inside.)
If you request to unsubscribe from this service, please be SURE that this is what you want to do. It means that you will not hear when there are updates to the Vavoom! Accessories even if those updates are vital when the dogs are changed such that the accessories MUST be changed to continue to work with the dogs. (This is of course a rare occurrence, but it is not entirely unheard of.)
Thanks as always for shopping at Vavoom!
Chiva