HALF PRICE FUZZBEE and ROPEBALL OFFER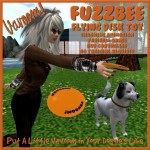 That's right Half Price on the two throwing toys, the Fuzzbee and the Ropeball until midnight SLT on Sunday 6th November 2011.
If you're not sure what these toys are, have a look at the videos. (The videos are only short, about three minutes altogether.) The Fuzzbee and the Ropeball are toys that you really throw for your dog and feature some supberb animations by Solcar Amat (who makes the animations for petting the dogs). It's all controlled by a simple HUD that you wear on your screen, including how far you throw the toys. Full Instructions are included.
I have updated the Fuzzbee and the Ropeball Toys to the VKC Toy System 2 so that your, Huskies, Golden Retriever and even your Wolves can carry them in their mouths like the rest of the new toys.
If you want to send one of these as a Gift, click on the Vendor and choose "Buy as Gift" from the Menu. The vendor will talk you through what you need to do to send the toys as a gift.
Already Have These Toys?
If you already own the Fuzzbee or the Ropeball toy, you can get a free update at my store.
.
Lost Products
Don't forget that anything you buy at the Vavoom! Store can be reclaimed for free if you lose it. If you need to reclaim something, you do it at the Update Stations.
SLURL: Vavoom! Update Stations
Did I say that it's free?
.
Want to Unsubscribe from the news service?
If you no longer want to receive the inworld notices, please send me a Notecard with your name and the word unsubscribe. (You can just put this as the name of the Notecard, if you like. No Need to write anything inside.)
If you request to unsubscribe from this service, please be SURE that this is what you want to do. It means that you will not hear when there are updates to the Vavoom! Accessories even if those updates are vital when the dogs are changed such that the accessories MUST be changed to continue to work with the dogs. (This is of course a rare occurrence, but it is not entirely unheard of.)
Thanks as always for shopping at Vavoom!
Chiva