Teddy Toys Updated and Half-Price Offer.
I've just upgraded all the old Teddy Toys to Toy System 2. They're now just one prim and work properly with all the newer VKC Dogs.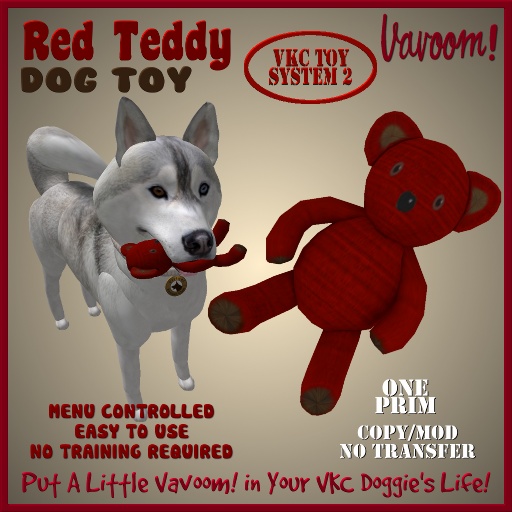 If you have one of my old Teddy Dog Toys, you can get it updated for free at the Update Stations at my Main Store.
If you already have the single-prim Teddy Dog Toy, it's still worth stopping by. I updated the texture and I think it looks a lot better.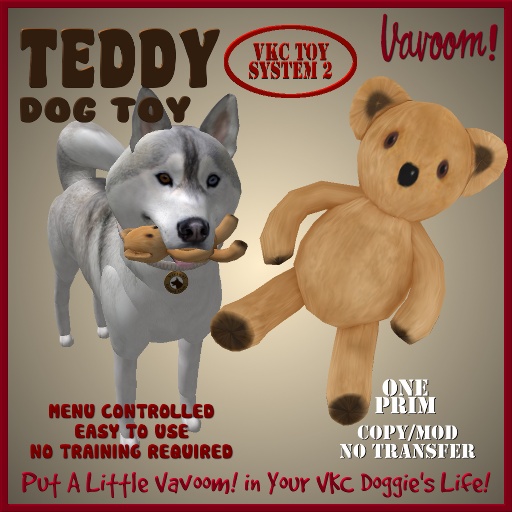 …and if you don't?  What are you waiting for? They are HALF PRICE for the next week!  (Offer Closes Saturday 12 My 2012)
.
Lost Products
Don't forget that anything you buy at the Vavoom! Store can be reclaimed for free if you lose it. If you need to reclaim something, you do it at the Update Stations.
SLURL: Vavoom! Update Stations
Did I say that it's free?
.
Want to Unsubscribe from the news service?
If you no longer want to receive the inworld notices, please send me a Notecard with your name and the word unsubscribe. (You can just put this as the name of the Notecard, if you like. No Need to write anything inside.)
If you request to unsubscribe from this service, please be SURE that this is what you want to do. It means that you will not hear when there are updates to the Vavoom! Accessories even if those updates are vital when the dogs are changed such that the accessories MUST be changed to continue to work with the dogs. (This is of course a rare occurrence, but it is not entirely unheard of.)
Thanks as always for shopping at Vavoom!
Chiva